Making the Desert Breeze in Woven Fabrics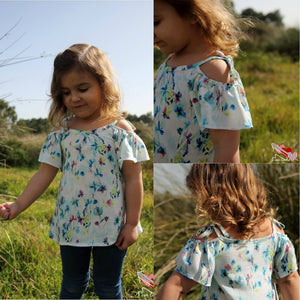 The Desert Breeze was designed for knits, but did you know it sews up beautifully in woven fabrics too?! There are a few options that do not require any modifications and some that of course need to be adjusted to account for having zero stretch to the fabric. I will go over each option of the pattern and walk you through the modifications (if needed) to sew the pattern with non-stretch fabrics. 
This is a lovely Desert Breeze top by Maria of 3 em linha. She made this version with absolutely no modifications to the pattern. :)
View A (Top), View B (dress), Flutter and Straight Sleeves, as well as the Tie Straps all require no modifications.
View C (gathered dress) - I'm currently working on this option for wovens, as the bodice pattern pieces will need to be adjusted since it is more fitted through the chest. I'll edit this post to include the View C modification once it is ready.
Sleeve bindings remain the same as per the cut chart listed in the pattern.
Plain Straps - if you plan on making any of the views with plain straps, you will need to use the cut chart below.
Straps/bindings, you can use pre-made bias tape or make your own.
Hemming the bottom of the dress and sleeves - Instead of hemming 1/2" as instructed in the pattern with knit. Just iron up 1/4" and then another 1/4" when hemming with wovens. Or if you prefer to have a 1/2" hem on the bottom (I suggest doing this for the View B dress), you'll need to add an extra 1/2" to the bottom of the pattern piece prior to cutting out your fabric.
There is only one step in the instructions that will change when using a woven binding. On page 13 for plain straps and page 16 for tie straps. You do not need to measure out on the binding, just find the center of the binding and match it to the center of the neckline. Also there is no need to sew beginning in the center and flipping as explained in the pattern tutorial as we are not worried about the stretch of the binding. Just sew in place as shown below. 
xo,
Mandalynn
1 Response
Leave a comment
Comments will be approved before showing up.