After the Rain - Cardigan Hack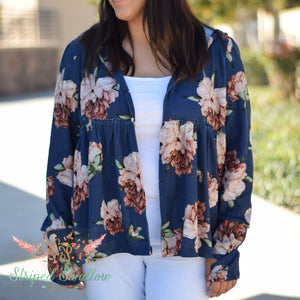 Sewing zippers can be a little daunting. If you are not quite ready to jump into zippers you can easily make your After the Rain into a cardigan. This hack is simple and you can still rock those amazing ruffles!
Construct the After the Rain, using the tutorial, up to attaching the zipper. 
Place the facing right sides together with the long edge of the cardigan. Pin in place. Starting 3/8' from the top of the neckline, below the memory hem on the facing, sew the facing to the cardigan. Note: Do not serge. 
Flip the facing to the inside of the cardigan and press. 
Follow the instructions, omitting the zipper, and topstitch the facing. 
Your new cardi is now ready to be hemmed and for cuffs to be added! I hope you'll share your results with everyone in the Facebook group. We love seeing and celebrating our fellow Swallows' creations! 
Leave a comment
Comments will be approved before showing up.