Call it a Day - Elastic Hem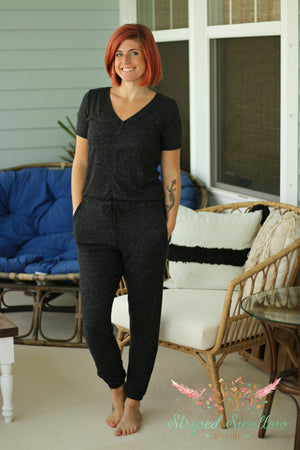 We always love a good hack. Mandalynn saw some joggers with an elastic hem and decided to give it a go, lucky for us! She snapped a few pictures so you can make some too! 
Notions: 1/2" elastic
To start, add 2" to the bottom of your pant pattern pieces. 
Finish the bottom edge of each leg. Press edge 3/4" towards the wrong side of the pants. Leave a 1"-2" opening, this is the casing. 
Elastic Length - Measure your ankle and add 1". This will be the length of your elastic.
Thread the elastic through casing. 
Make sure the elastic is not twisted.
Overlap elastic ends 1/2" and sew together using a zig zag stitch, backstitch a couple times.
Place the elastic into the casing and sew closed. 
I hope you enjoyed this tutorial and I can't wait to see your rompers. Be sure to join our Facebook Group  and share!
Happy Sewing! 
Leave a comment
Comments will be approved before showing up.