Women's Boheme Sky - Tester Round-Up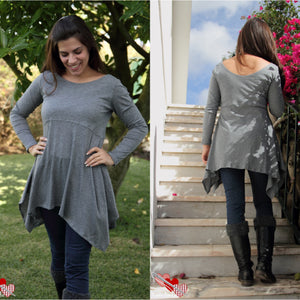 The Women's Boheme Sky is now available!! The pattern can be made in three lengths and has four sleeve options. There is also nursing mod instructions included in the pattern! Check out all the testers amazing tunics, midis and dresses and then head over and use coupon code WBOHEMESKY for $3 off now through Monday, November 9th at 11:59PM CST. Or bundle up and save by using the coupon code BOHEMESKYBUNDLE to get both the girl's and women's Boheme Sky patterns for $16 total when you purchase The Boheme Sky Bundle.
Tahnee - midi
Emily (@enjoyful_makes) - dress length with nursing mod
Savanna - midi
Ashley (Magically Stitched) - midi
Cassandra (Pear Berry Lane) - midi (shortened)
Darcy (The Ruffled Stitch) - dress length
Terri (My Flawsome Life) - tunic
Maria (3 em linha) - tunic
Erin (@theeleventhirtyfive) - tunic (shortened)
Brittany (Little Indian Pony) - dress length
Bethany - midi
Diane - dress length and midi
Myrna - dress length
Tonya - tunic
Tahnee - midi
Jamie - midi
And a few of my Boheme Sky, nursing friendly versions...tunic, midi and dress with my 30 week belly :)
xoxo,
Mandalynn
2 Responses
Leave a comment
Comments will be approved before showing up.