Project Run and Play - Week 3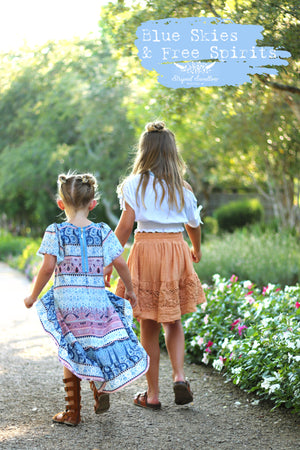 When I heard Week 3's theme -- Sound of Fashion -- it immediately took me back to a memory of dancing under blue skies with my girls at a music festival. Their carefree movements that day re-inspired me to go with the flow and to live life to the fullest. Drawing on that inspiration and my family's love for indie music -- rock, reggae and folk -- it was only fitting I created a pair of flowy festival designs with a bohemian vibe for my look.
For my first outfit, I drafted a new flowy, hi-low top and added an exposed zipper with the sweetest feather pull. I paired it with my first and most popular pattern the Coachella Shorts.
I was drawn to the colors I chose for this week, the gorgeous peach and blues, as they remind me of being outside as the sun is setting listening to great music.
For my second outfit, I drafted a new skirt with a v front waistband and a hemline that dips down in the front and back. The lace blue bralette underneath is from a dance wear pattern I drafted for my daughter a few weeks ago. Lastly, I used my Hideaway pattern as the starting point for the white top. I changed the neckline a bit, added casings and ties to the sleeves, and cut the length off the top to make it a crop and shirred the bottom.
Head over to the Project Run and Play blog to see all the entries and vote for your fave for Week 3. 
Leave a comment
Comments will be approved before showing up.