Project Run and Play - Week 2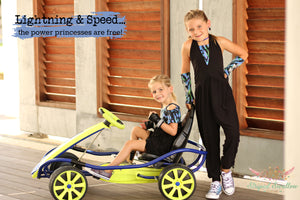 Free to Play. Run. Make believe... free to Be. To create. To move. To dance & groove.
Free to flip and twirl and fight and whirl... and free to conquer the world!
I'm going to be real honest...when I heard the theme for Week 2 -- Super Hero and Heroines, I freaked out a little. It is sooo out of my realm! I immediately started brainstorming though and was so relieved within a couple hours I had a plan. And then of course didn't sleep well that night because I was working out all the details in my head. I love those full force, creative moments even if it means I don't get much sleep!
This photoshoot was such a blast too. Once Harbor stepped into the romper and put her gloves on, she was incredibly FIERCE! And Emerie kept running around saying she was flash! 
For my first outfit, I drafted a harem romper with a deep v-neck so I could add an inset with the super hero fabric. Since I knew I wanted the romper to be solid black, I added a few fun details to bring it to life. Gathering on the sides of the bodice, shirring down the center of the back bodice and beautiful angles on the front bodice.
For my second outfit, I chose my
Desert Breeze
pattern as I wanted the cold shoulder look. I stumbled across the fringe when I was on the hunt for fabrics for my beach photoshoot for
Week 1
and immediately knew that was the fabric for the skirt of this dress. This was my first time sewing with fringe and it was actually easier than I expected, but definitely a little tedious when cutting. More details below if you are curious on how I went about it.
When cutting fringe, make sure all the fringe is laying in the opposite direction of where you will be cutting so as not to accidentally cut some of the strands. After you have your piece cut out per the pattern, you'll want to cut the few pieces of fringe that fall within the seam allowance (photo 1). Also, packing tape was my best friend during this project, you can see in photos 2-4 how I used the tape. I used it to keep the fringe out of the way and it thankfully didn't pull any of the fringe off when I removed it after sewing. 
So FIERCE!
The final touches -- Each girl got a pair of super hero gloves. I used my
Winter Park
thumbhole cuff as a starting point. I added glitter heat transfer vinyl for a super hero logo on the dress and Harbor's gloves. And finally made a belt in the lame fabric for Emerie's dress.
Did I mention how much fun we had with this photoshoot?!
So after all the fret this ended up being the theme I was most excited for. It pushed my creativity and I love it for that. 
Head over to the Project Run and Play blog to see all the entries and vote for your fave for Week 2.
Hopefully I'll be back next week to share my Sound of Fashion outfits with you all!
xo
Mandalynn
Leave a comment
Comments will be approved before showing up.