Nightingale Cardigan - Straight Hem Hack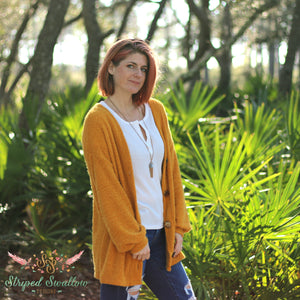 If the hi-lo hemline isn't your jam - or perhaps you'd just like to mix things up - you can easily make your Nightingale cardi with a straight bottom hem instead. This only requires some paper and a couple of simple changes to the View B pieces. Let's get started!
1. Lay your View B Back Bodice piece on top of the paper, lining up the center fold edge with the corner of the paper. Tape/glue them together.
2. The Back Bodice on the original pattern has a little flare to it, so you will want to remove the 1cm on the side seam to straighten up the back piece a bit. Trim the excess along the side edge as shown.
3. Match up the armscye/sleeve of the Front Bodice and NEW Back Bodice piece to determine how much length needs to be added to the Front Bodice. Repeat step 1 for the Front Bodice piece. 
4. Match up the straight short edge of the View B Neck Binding piece with the front edge of the original curve on the View B Front Bodice piece. Add additional paper to match the new hemline you created on your Front Bodice piece. 
It's a good idea to try your cardi on at this point before hemming the bottom. Some fabrics - particularly those with a lot of drape and/or weight, or those lacking recovery - will sag or hang lower in the front than you may wish. In this case, it helps to trim a bit off the front piece, angling it up to account for the pull of the fabric. 
To do so, match one corner of a straight edge to the side seam and angle the other end slightly, so the ruler overlaps the front binding corner by approximately 1", and cut. Repeat on the other front side. 
Your new cardi is now ready to be hemmed! I hope you'll share your results with everyone in the Facebook group. We love seeing and celebrating our fellow Swallows' creations! 
Leave a comment
Comments will be approved before showing up.