Harbor's 7th Birthday! / Willow Raglan - Pajama Add-on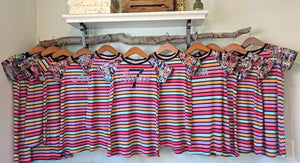 Harbor decided this summer she wanted to have her first big sleepover for her 7th birthday! We started planning late July and she chose LOL Surprise Dolls for the theme. I had ordered her a yard of an amazing LOL Doll fabric from Back Stitch Fabrics  a few months prior and luckily hadn't sewn it up yet. I came across the perfect fabric to pair with it over at So Sew English (Jude stripes in double brushed poly).
At first I couldn't decide which pattern I wanted to make...Desert Breeze, Cloud 9 with Emerie Shorts would both be super cute. But ultimately decided on a raglan pajama dress...
I drafted up a dress bodice piece to go along with the Willow Raglan sleeves and it was perfect and exactly what I wanted! Instructions and free add-on for the Willow Raglan located at the bottom of this post.
And I somehow barely, managed to stretch the 1 yard of fabric into 11 sets of raglan sleeves!
Her favorite LOL is the unicorn LOL and she is obsessed with unicorns so we went with a unicorn cake. And she wears a sleeping mask to sleep every night so unicorn sleeping masks were a must for the sleepover as well. 
Emerie's hiding behind there somewhere. :)
They all loved having matching pajamas, but omg were they hilarious running around here with their unicorn sleeping masks, jumping up and down screaming "glow sticks, glow sticks" all looking the same! haha
Unicorn cake by Publix.
LOL Surprise Doll cookies by Kaitlin's Cookies.
They played LOL Doll games, played at the park, made their own scavenger hunts and sewed their own LOL Doll sleeping bags.
When we were planning her party, I thought it would be so fun to teach them to sew and help them make an accessory for their dolls. A sleeping bag immediately came to mind and I had planned on drafting one up, but I did a quick search just in case and came across See Kate Sew's blog post and pattern and it was perfect!
Mama was a tad bit exhausted the next day ha! But it was such a great party and my sweet Harbor Capri loved every minute of it! 
How to Make your own Willow Pajamas
Download the pattern pieces here. (It will open in a preview program, make sure to save to your computer and open in adobe before printing.) This is the front and back bodice piece. You will then use the sleeves and View C neck binding pattern pieces from the Willow Raglan pattern...which is on sale for Harbor's birthday until October 4th at 11:59PM CST, with the code "helloseven". I used the short sleeves and then hemmed instead of adding cuffs. You may also use the 3/4 length and long sleeves. Then just follow along the Willow Raglan tutorial, skip adding the gathered skirt and hem the bottom of the dress.
xo,
Mandalynn
Leave a comment
Comments will be approved before showing up.